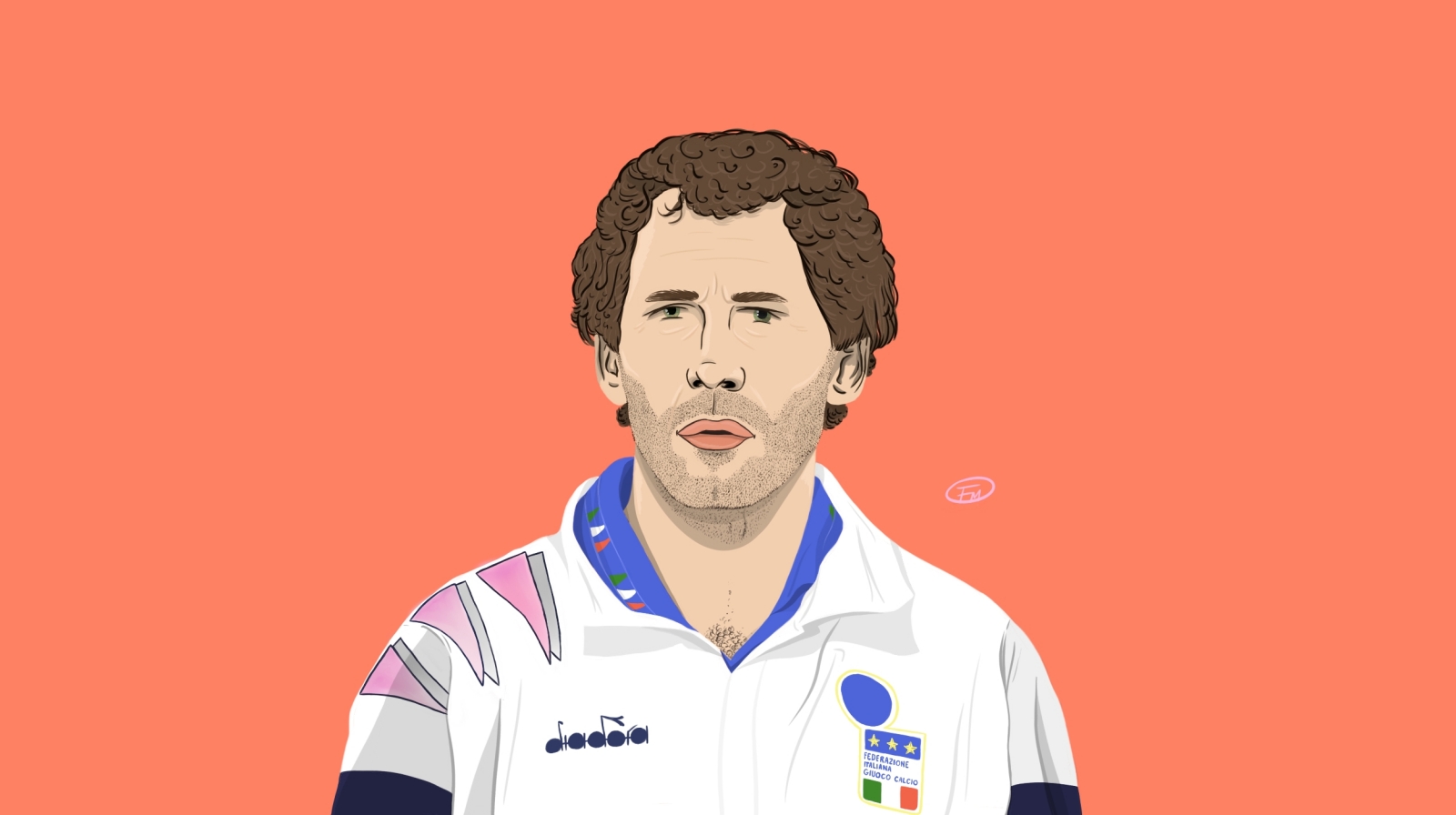 Illustration by Federico Manasse
Italian football is first and foremost defined by defence and tactics. No player in the history of calcio more closely defines these ideals than Franco Baresi of AC Milan. A throwback to the days when liberi like Giacinto Facchetti roamed the pitch, Baresi took a very modern approach to this sparsely-used formation.
Diminutive in stature, Baresi's nickname as a youth player was 'Piscinin', a Milanese dialect word that roughly translates as 'little guy'. Later in his career he picked up a new nickname, a homage to German legend, sweeper Franz Beckenbauer – Baresi became known as 'Kaiser Franz'.  
For 20 years, Baresi roamed the back line of the Rossoneri, and for 15 of those, the legendary number 6 was captain. Baresi was so enamoured with Milan he not only spent his academy years with the club – even though his brother Giussepe was at Inter – but when the Totonero scandal threatened the very foundation of the club and Milan were relegated to Serie B, Baresi remained. 
In addition to being appointed captain of the Rossoneri, Baresi served as captain of the national side, the famed Azzurri. Playing at international level, Baresi saw some of the highest and lowest points of his time on the pitch. The only player in World Cup history to garner first, second and third place medals, Baresi also missed a critical penalty against Brazil in the 1994 World Cup final. It must be noted, however, that Roberto Baggio and Daniele Massaro also missed.  
Although Baresi was in the Azzurri squad when they beat West Germany in the 1982 World Cup in Spain, he did not see any playing time, unlike his brother Giuseppe. It was not until the 1990 World Cup that he would see significant minutes, when Italy kept five consecutive clean sheets as they finished third, and Baresi was named in the tournament XI.
[icon image="fa fa-chevron-down" size="extra-small" url=""] [/icon]
Original Series  |  The 50
[icon image="fa fa-chevron-up" size="extra-small" url=""] [/icon]
Many agree that the Milan side of the late 1980s and early 90s, with Baresi as captain, was one of the greatest to ever take the pitch. In many ways he is the honest representative of pure calcio. A true libero, Baresi thinks organisation and stiff defending first, the hallmark of all great Italian sides. 
During his career, he and his teammates won 18 trophies, three Champions League titles from five final appearances, six Scudetti, two Intercontinental Cups, four European Supercups, four Italian Supercups, two Serie B trophies and one Mitropa Cup. The only competition Milan failed to conquer during Baresi's time was the Coppa Italia. 
Of all the great players who have adorned the Rossoneri, it is Baresi who was voted Player of the Century, and it was in his honour that the famous number 6 was retired. The only other Milan player to have the same privilege was Baresi's protégé, Paolo Maldini, the keeper of the sacred defensive flame for the most famous side in calcio history.  
In Baresi's last season in Milan, the 1996/97 campaign, Giorgio Morini was brought in to steer the helm. It turned into a disaster, hastening the exit of Baresi. If not for the wisdom to bring Arrigo Sacchi back as manager to rescue Milan from relegation, Milan would certainly have had an embarrassing season; as it was, they staved off relegation by a mere six points. 
After 20 years of near perfect service to club and country, Baresi was done. Over 700 appearances for the Rossoneri and 81 for the Azzurri, Baresi will be forever remembered as the most iconic defender of Serie A [icon image="fa fa-dot-circle-o" size="tiny" url=""] [/icon]
Writer  |  Jim Hart  [icon image="fa fa-twitter" size="tiny" url=""] [/icon]
Editor  |  Andrew Flint  [icon image="fa fa-twitter" size="tiny" url=""] [/icon]