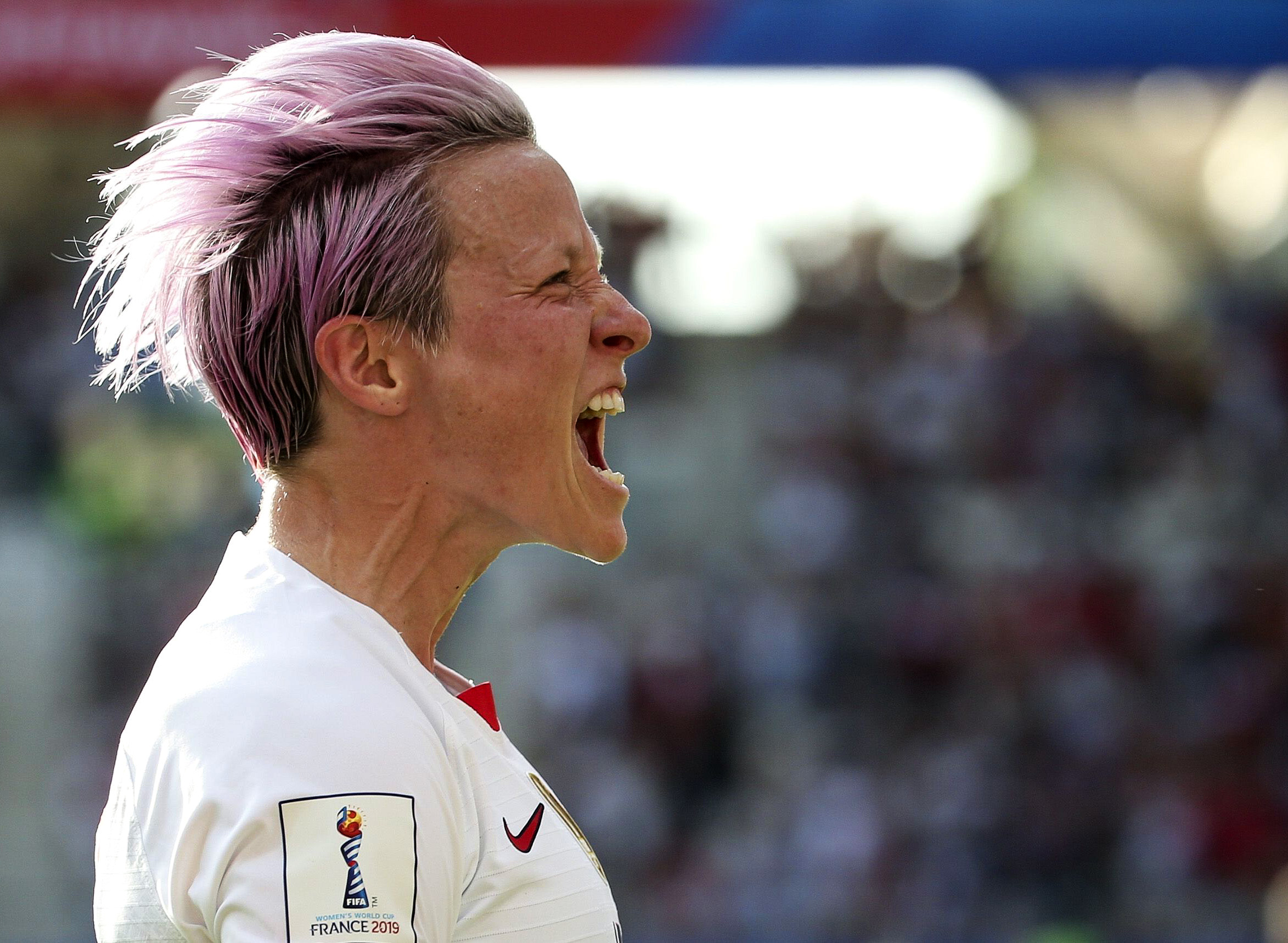 What do George Weah, Hakan Sukur and Romario have in common, besides being famous footballers? They belong to a select group of players who have had a successful career in politics after retiring from the beautiful game. If the recent developments in US women's football are any indication, we could soon be adding another name to that list – Megan Rapinoe. 
To call the woman who captains both her national team and club team (Reigns FC) colourful would be an understatement. And it is not just about the pink hair, though that too plays into the creation of her overall persona. 
It was one of the three things that catapulted her to the national and global media spotlight in 2019 – the other two being a Twitter spat with the US president, and her stunning success in the recently concluded Women's World Cup, where she led the team to their second successive trophy. This was no overnight transformation
As a player, Rapinoe has had a long career that stretches back to the early 2000s. She has always been very outspoken about the causes that she cares for, including LGBTQ and minority rights and equal pay. And she has not shied away from using sports as a platform to put forward her views. In 2015, she courted controversy when she remained silent during the US national anthem at the Women's World Cup. 
When Colin Kaepernick took a knee in the NFL in 2016, Rapinoe was one of the prominent athletes to show solidarity. Her actions at an international friendly prompted the US football authorities to change player conduct rules, making it mandatory for players to stand during the national anthem at games. 
Rapinoe has also been vocal off the field about these issues. She has repeatedly made her opinions and positions clear during media interviews all through her career. It was the combination of stunning success on the field and high profile social media spats off it that has made her headline news in 2019. 
President Trump has used sports very effectively to pander to his conservative voter base, criticising dissenting minority players and having Twitter spats with prominent stars. As an outspoken gay woman who protests during the national anthem, Rapinoe is a natural target for the jingoistic and misogynistic Trump.
But the now legendary Twitter spat has only helped Rapinoe's profile, enhancing her position on the US national political stage. It all started in June, during the World Cup, when the US team was dominating the tournament. During an interview, she colourfully stated that she would not be visiting the White House if her team won the cup. 
Trump was quick to take offence, asking Rapinoe to "finish the job" before talking about visiting the White House. The women's team duly delivered, and Rapinoe has stuck to her guns, criticising the president on many fronts in subsequent interviews to the media. 
Since winning the World Cup in style, Rapinoe has been busier than ever off the field, thanks to her new-found celebrity status. One key issue for her at this juncture is gender discrimination in US football, especially with regards to wages. In most other football nations, the women's game is eclipsed by the men's version in terms of visibility, attendance and, of course, revenue. While things are improving, particularly in the UK and Europe, this is the unfortunate reality across the world.
Except in the US, that is. This is one place where the women have been consistently more successful than their male counterparts and crucially has produced more revenue streams as well. Despite all that, the players earn much less than a junior coach in the men's game. It is quite natural to feel outraged. 
Rapinoe and her teammates have been protesting this for years. In March 2019, they finally launched a lawsuit against the US football establishment, demanding millions of dollars in back pay and damages. This issue has gained traction among the public and politicians alike, with even a majority of the traditionally conservative  Republicans supporting it. Rapinoe has made this lawsuit the prime focus of her activism for the moment. 
For the record, Rapinoe has neither affirmed nor denied any suggestions that she might enter politics. She has been somewhat guarded in her interviews when asked about this. In one, she stated that she was not qualified enough to run for the office of any kind. But she has also agreed that ever since Trump took office, the level of competence and qualifications required to hold political office in the US has drastically reduced. Whether this is just a criticism of Trump or an indication that she might be willing to run for office remains to be seen.
At the moment, she has her hands full with her career and activism. But at 33, the former is rapidly approaching a conclusion. Frequent injuries, particularly ACL ones, have not helped either. So you would not bet against her venturing into politics in the near future. In fact, placing a small bet on that right now might be a good idea.
At this stage, the world is her oyster according to many political analysts across the US. The nation is deeply divided along party and ideology lines. And as a die-hard progressive and liberal, Rapinoe has massive support among left-leaning voters, especially women. 
One of the Democrat party presidential candidates, Jay Inslee, suggested that he would make her the Secretary of State if he becomes elected. But given the slim chance of Inslee bagging a party nomination, that might be a long shot. There is no indication of Rapino running against Trump in 2020, though that would be a dream match-up given the history between the two. Once she retires from football, there are other promising avenues elsewhere. 
If she wants to push her agenda at the DC level, Rapinoe could easily run for Congress or Senate in Democrat strongholds. She has strong support in Washington State, where she plays her club career. The two Senate seats in this state are up for election in the next five years, with both held by female Democrats. Rapinoe could replace one. 
If she wants to make a change at ground level, she could start with something relatively lower, as the mayor at a progressive American city. It could be in her native California state or other left-leaning urban centres like Portland or Seattle. But all this is mere conjecture, food for thought for the future. Having won the Olympic gold and two World Cups, she no longer has anything left to prove. When the time comes to hang her boots, Rapinoe will have no regrets, regardless of whether she chooses to venture into politics or not.