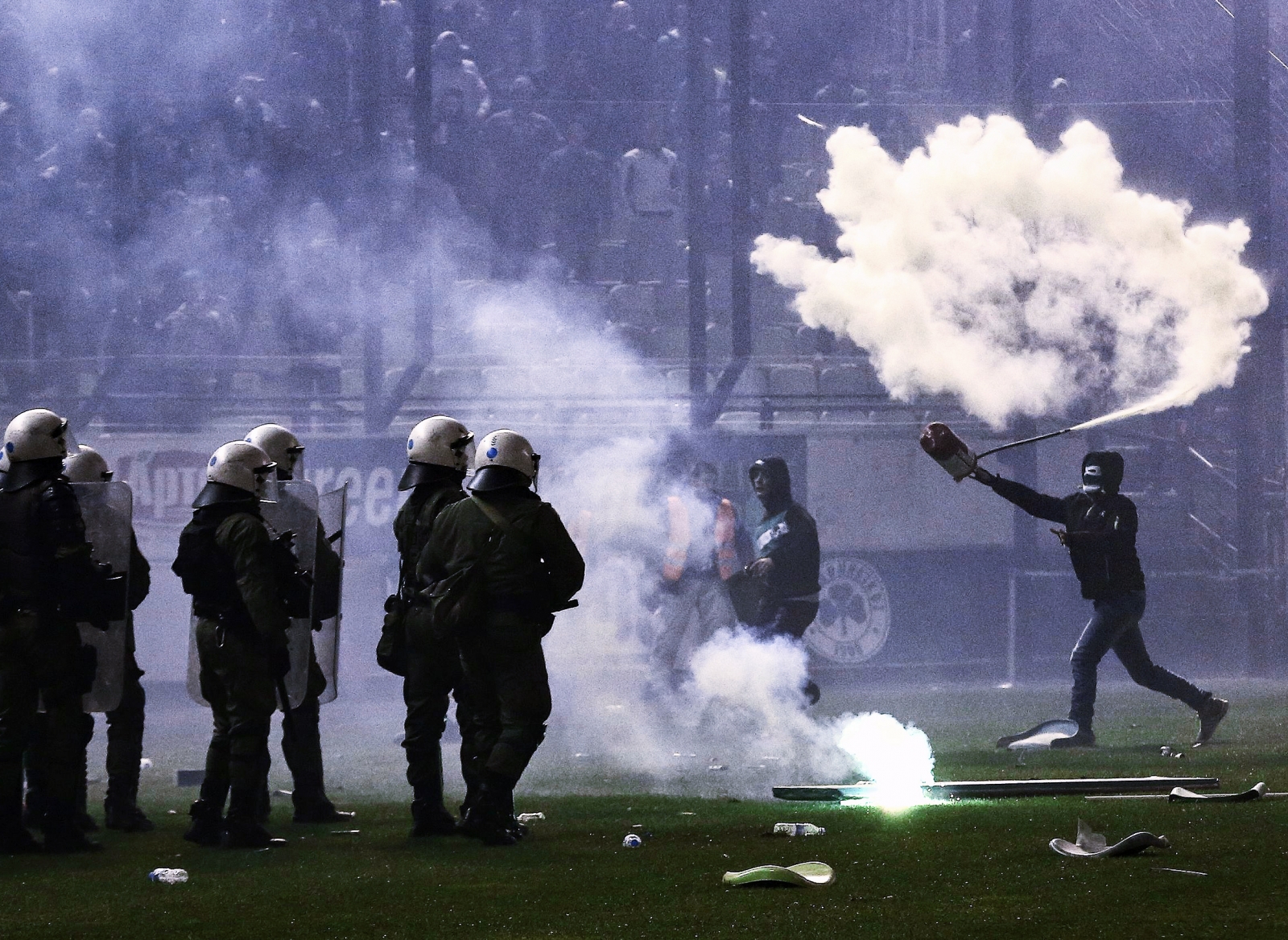 The firebomb fell gently towards the soft canopy of football scarves and sombre flowers that lay now where, 24 hours before, the boy had lain murdered. Alexis Grigoropoulos wasn't supposed to die here in the sullen, graffiti-laced streets of Athens' Exarcheia district. It wasn't in his name that a nation's youth should have been forced to the streets to confront a regime's brutality.
For amidst the confusion and thick smoke plumes that accompanied each firebomb's explosion, one thing remained clear. Illuminated in the light of a city burning, the photographs at the centre of Athens' newest shrine showed the face of someone who was just a child – a cherub-cheeked 15-year-old with polka dot freckles and warm maroon eyes.
On the night of 6 December 2008, as amorous couples wandered along Athens' moonlit promenades whispering dreams of the future, Grigoropoulos' lifeless body fell to the ground. What followed was Europe's largest political riot since May 1968.
The young Panathinaikos fan had been walking back to central Athens from the team's Leoforos stadium when he decided to meet his friends in Exarcheia. On the corner of Tzavella street, in front of a dilapidated apartment block whose windows proudly displayed cherry and black anarchist flags, Grigoropoulos had sipped beer nervously from a paper bag as the police car rolled towards them.
He had reason to be fearful. Greece's notoriously right-wing police didn't like the free-living Exarcheia district, nor the self-styled anti-fascist ruffians who hung on its street corners. After Grigoropoulos exchanged insults with officers through the car window, policeman Epaminondas Korkoneas gently opened his car door, slowly pulled out his gun and shot Grigoropoulos in the heart.
"For each of his dreams you stole, towards you a stone we will throw." The violence began that night. Through Exarchia's rebellious alleyways, past its smashed storefronts and hawkers selling three rocks for a euro, the hooded youths came with their ashen balaclavas and bloodied football shirts. Amidst a sea of angry protestors screaming left-wing slogans, the colours of Greece's leading football clubs were everywhere.
At the front of the crowd, the waspish yellow and black shirts of AEK Athens' Original 21 ultras led the way, their leader Vassilis crying out that the flame of political change had been awoken. Already around Grigoropoulos' shrine, the letters AEK were painted everywhere, the letter A circled in in honour of the fans' Anarchist allegiances. To their right, the clover-laden green shirts of Panathinaikos' Gate 13 supporters surged past Exarcheia's crumbling polytechnic. They too had paid their tribute to Grigoropoulos on the walls of Tzavella: "These nights are for you, Alexis," their sprawled message declared.
Read  |  A World of Ultras: Panathinaikos
For Panathinaikos fans, this was personal. Grigoropoulos was one of their own, a boy who joined fellow fans in dishing out free soup to Athens' poor every Monday. Hours before his murder, he had served for the club as a volunteer, selling tickets for the upcoming matches of its water polo team. In the eyes of the club's left-wing fan base, the murder of Grigoropoulos sounded the death knell of a corrupt political system – one that tolerated police brutality whilst imposing economic austerity measures on the country's poorest citizens.
Panathinaikos fans were not alone in experiencing this sentiment. Joining them on the streets of Exarcheia, supporters in the red and blue shirts of Athens' oldest football club, Panionios, cried out similar protestations: " Corrupt politician betrayers, we would die then let you murder another child."
In Athenian folklore, Exarcheia is often presented as an Alice in Wonderland-like realm; a place where the world is turned upside down and the natural order of things is reversed. This is where, after all, a student protest led to the collapse of Greece's seemingly imperious military junta in 1973; where the cold-blooded murder of 15-year old Michalis Kaltezas at the hands of riot police in 1985 spurred the rise of an anarchist movement that continues to rock Athenian politics to this day.
The image of Greece's rival football ultras uniting, rocks in hand, to confront a political regime during 19 nights of consecutive rioting seemed to many a similar magical transformation. For prior to the December Riots, Greek football had often resembled a form of all-out civil war. In 2008 alone, there were 325 incidents of violence between fans of rival Athenian clubs. In March 2007, Greece's top flight had been suspended for a month after 60 members of Olympiacos' board and leading supporters group were implicated in the planned murder of Panathinaikos fan Michalis Filopoulos.
Yet, surprising as the conclusion may seem, the unity of December 2008 was foreshadowed in the violence of the years before. Rather than being the stereotyped primitive outburst of drunken, aggressive football fans, the violence was rather reflective of the wider political polarisation occurring across Greek society. In the first decade of the millennium, football became a forum of political debate in Greece. New political forces such as the left-wing Syriza and the neo-Nazi Golden Dawn recognised that years of corruption had exasperated Greek society.
Many Greeks, disenchanted with the political system, were now willing to look beyond the mainstream confines of the centre ground for new types of saviours. The parties of the extreme left and right offered something new and untested. And what better way for these nascent parties to grow their support then bypass the political system altogether and recruit directly from amongst football fans.
There was fertile political ground to be made here. As sociologist Yiannis Zaimakis found in a 2008 study, 82 percent of Greek football fans formed part of what was known as the country's '€700 a month generation'. These were males between 18 and 34, whose economic struggles had left them with little faith in globalisation or notions of progress. In the radical rhetoric of Syriza and Golden Dawn, they found hope.
These newfound political associations were projected onto the terraces. Michalis Filopoulos was a member of a branch of Panathinaikos' Gate 13 anti-fascist ultras in his home town of Kolonos. He was murdered by members of Olympiacos' Red Nationalists, supporters with known links to Golden Dawn.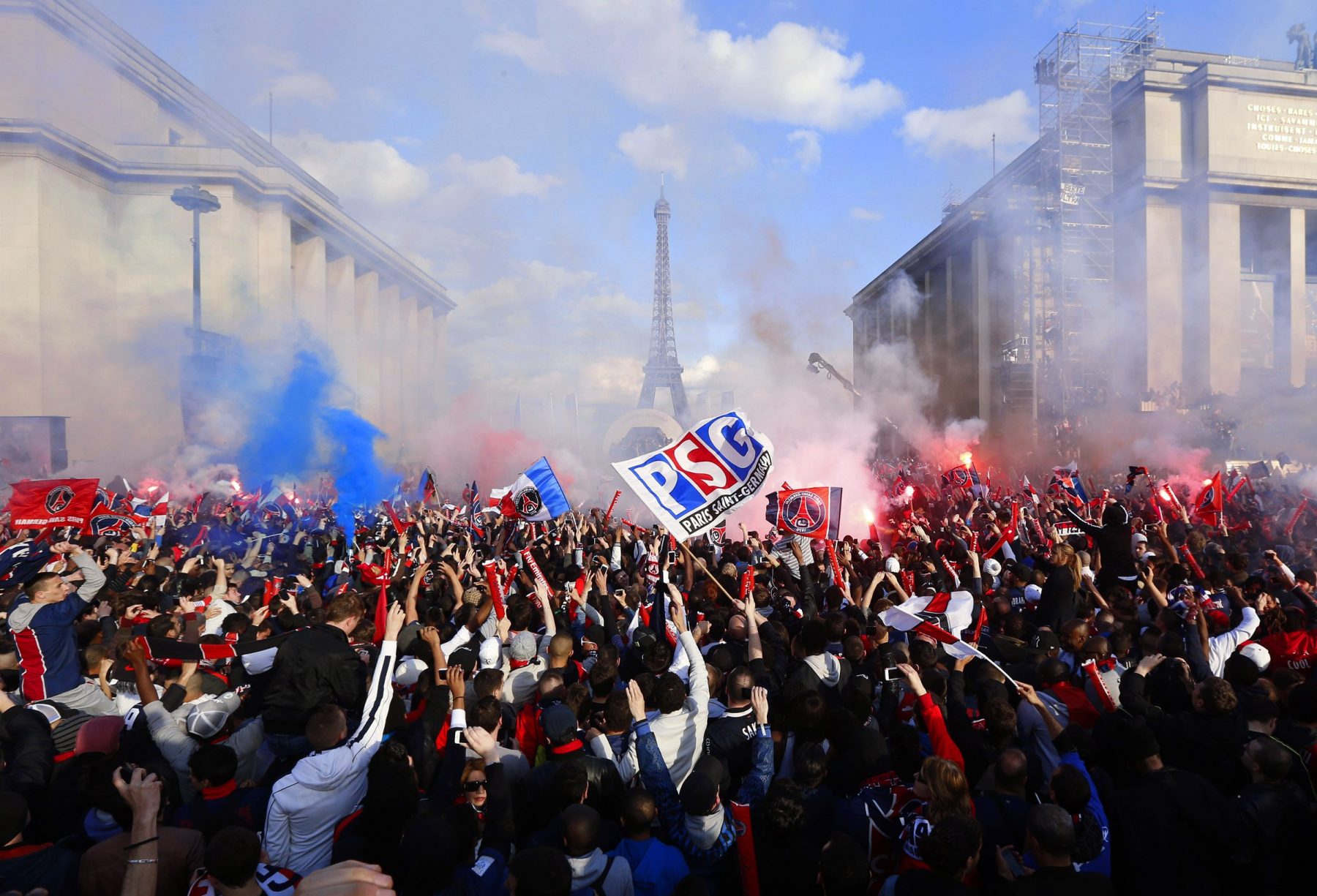 Read  |  The last of the ultras: Paris Saint-Germain and the repression of football fans in France
Pangrati is a gentle, homely Athenian neighbourhood where the warm smell of spinach pies pour out of little delis into streets lined with golden cypress trees. With its quiet demeanour and collection of wizened grannies who sit basking in the sun, it is the last place you would expect one of Greece's most unholy alliances to have been born. Yet it is here, in March 2000, that the far-right Golden Dawn party began a footballing arms race, commencing the process whereby Greece's political parties one-by-one would seek to infiltrate and radicalise football supporter groups.
That month, at Golden Dawn's headquarters in Pangrati's Barnabas Square, the party's vice-president, Ilias Panagiotaros, formed a new supporters group for the Greek national team. The Blue Army, as the fan club is known, was inspired by leading Golden Dawn members' participation in the Yugoslav Wars. An estimated 35 Golden Dawn officials fought as part of the Bosnian-Serb Army in their campaign of ethnic cleansing against the Bosniaks.
Here, Golden Dawn fought alongside Arkan's Tigers, a paramilitary unit of extreme right-wing Red Star Belgrade football hooligans who had been mobilised by notorious warlord Željko Ražnatović, known as Arkan. Throughout the pages of Golden Dawn's Chrysi Avgi newspaper during the war, the party had heaped praise on Arkan's idea of mobilising nationalist football fans. By 1995, Chrysi Avgi's editorials were suggesting that "soon the time would be ripe for a similar organisation in Greece."
In 1999, the time had come. As with Pangrati, Athens' soulless Olympic Stadium isn't the sort of place you'd expect to be a cauldron of nationalist fervour. Everything about the stadium screams pure apathy. The oppressive glare of grey, unwashed seats radiates from one concrete terrace to another, snuffing out even the fieriest supporters' excitement and passion. Any surviving atmosphere soon dissipates into the night through the metre-wide gaps in terracing that lie behind each goal.
Yet when in October that year, a small contingent of travelling Albanian fans set fire to the Greek flag during an international match between the respective countries, they sparked a nationalist fervour. Over the next 16 days, attacks on immigrants occurred across Greece. They culminated in the night of the 22nd when Pantelis Kazakos, a member of Golden Dawn, exited his apartment and shot dead the first two foreigners in sight.
In this cauldron of nationalist resentment, Golden Dawn saw its opportunity. The Blue Army was for all those who felt "insulted by the burning of the Greek flag regardless of political affiliation", the fan group's inaugural press release noted. In fact, the Blue Army presented itself as being independent of all political parties, attempting at first to hide its links to Golden Dawn. A fan of PAOK Thessaloniki, Stefanos Theodoros, was even hired to present himself as the group's founder.
In these early months, nobody asked any questions. The Blue Army performed Nazi salutes and unveiled Swastika banners at Greece's match versus Finland in November 2000, but this was taken as nothing more than a mere sign of immaturity. It was only when 60 Blue Army members in Nazi paraphernalia laid siege to the Greek Football Federation's headquarters in November 2001, protesting against the country's bid to co-host Euro 2008 with the "Mongol rats" of Turkey, that political eyebrows began to be raised.
"Yes, it is true." These four, little words tumbled out of Ilias Panagiotaros' mouth and rolled like a grenade into the homes of a nation in January 2002. Here was Golden Dawn's vice president admitting live on air that the party had founded Blue Army. Even worse, he seemed oddly proud of it: "Yes, many members of the Golden Dawn are also members of Blue Army and vice versa; we created the group to draw the support of new members."
Read  |  A Tale of One City: Athens
Panagiotaros was, in a sense, forced into making the statement. The broadsheet Eleftherotypia would soon publish evidence of the respective groups' ties. This included proof of both organisations being registered at Golden Dawn's headquarters in Pangrati and sharing telephone numbers and bank accounts. Yet Panagiotaros's display of bravado and pride didn't seem artificial or false.
It was as if the beefy politician knew that he could flaunt the connection and suffer no consequences. It was this that worried moderate Greeks. For years, rumours had abounded that Golden Dawn enjoyed widespread support amongst the police. In 1998, Greece's Minister of the Interior decried "a culture of fascism and wanton violence" in the nation's police forces. By 2002, news outlets were reporting that 20.6 percent of officers were to vote for Golden Dawn in upcoming local elections. If Panagiotaros was prepared to be so blasé, many figured, it was because he enjoyed institutional protection.
Future events were to suggest that they were right. The Blue Army persevered unpunished. Soon, Panagiotaros was elected as a Member of the European Parliament after campaigning on a joint Blue Army-Golden Dawn ticket. The violence also increased. In 2004, members of a police force now boasting 50 percent support for Golden Dawn passively watched on as 12 Blue Army supporters set fire to cars carrying Albanian passengers in Athens' Omonoia Square. A day later, a Greek supporter shot dead a 20-year old Albanian student. These immigrants' crime? Their national team had recorded a shock victory over Greece's European champions just days earlier.
The district of Keratsini doesn't make it into any travel guides. Located to the west of Athens in the small city of Piraeus, its streets of terraced houses are punctuated only by the occasional backgammon bar or run-down service station. It is here that Golden Dawn has built its latest "political castle" – the party's favoured term for electoral strongholds where it receives 40 percent of votes or more. The term is not unwarranted. Muscle-men in black shirts patrol the streets, their outfits changing only on matchday when tattooed torsos swap black for the red and white stripes of Piraeus' Olympiacos.
As he walked along Keratsini's streets towards his death, past pools of stagnant water and creaking electricity pylons, Pavlos Fyssas would have wanted you to know that he was not one of these men. Fyssas was one Olympiacos fan who Syriza's message had gotten to. He had read the left-wing leaflets Syriza had distributed amongst the club's Gate 7 ultras and joined the party's protests against the fascist banners Olympiacos hooligans regularly paraded at home games.
Not content to merely join in the protests of others, the famous rapper who bore the stage name Killah P had sworn to promote Syriza's left-wing politics in his music. In Keratsini's dour streets, where the scourge of unemployment had given birth to the disease of xenophobia, this did not make Fyssas widely popular.
When Syriza decided to take-on Golden Dawn's strategy of infiltrating football supporter groups in 2004, they were successful in gaining support in nearly every club apart from one. Olympiacos Piraeus, with their famous right-wing Red Nationalist hooligans, had proved a bridge too far.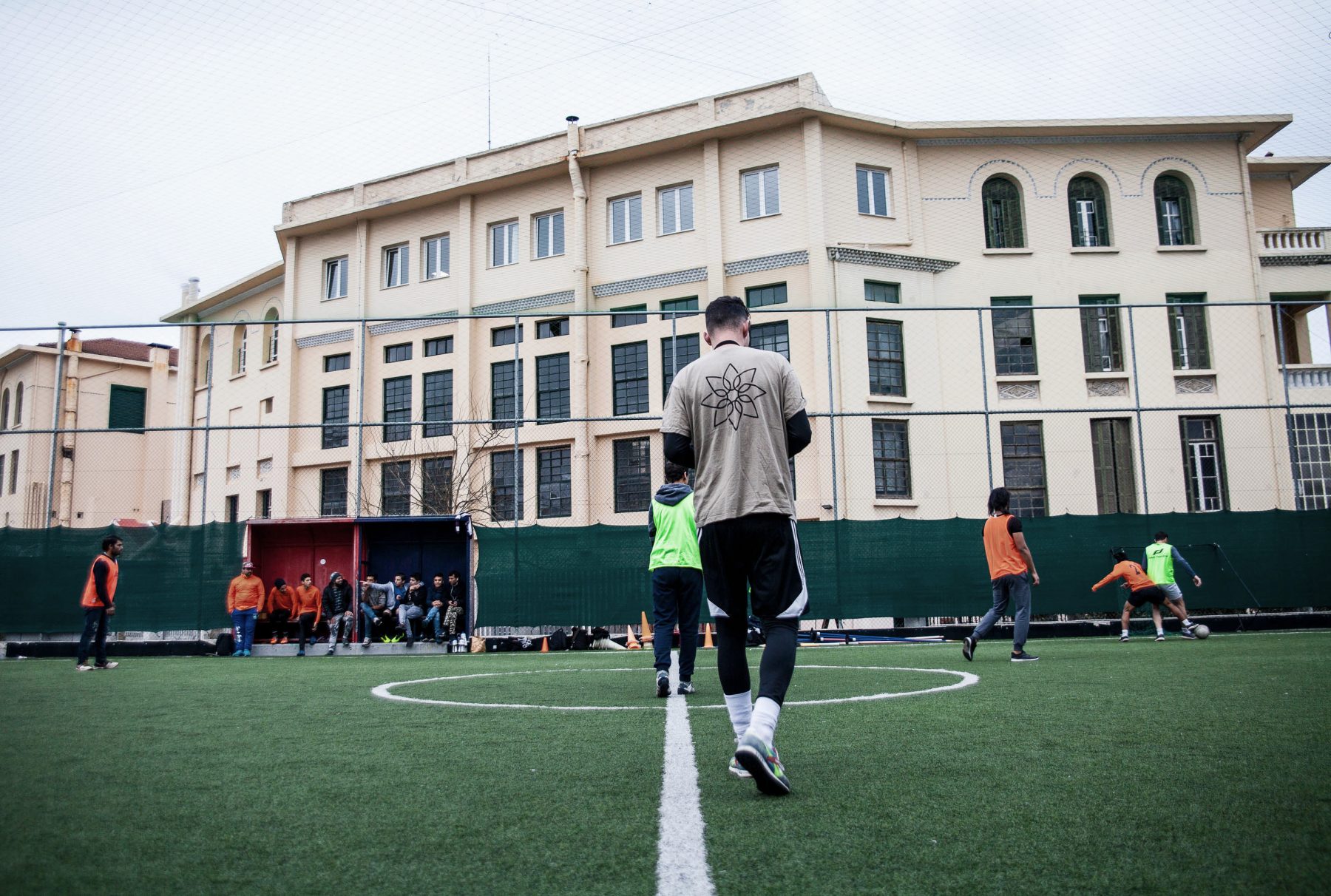 Read  |  Aniko FC: the project bringing hope to desperate refugees in Greece
Syriza had recruited activists amongst the Autonomous Gate 10 of Iraklis Thessaloniki, the Super 3 of Aris,  Fentagin of Atromitos and Warriors of Panathinaikos. They had funded PAOK fans' humanitarian trip to Georgia in 2009 in aid of victims of the previous summer's Russian invasion. They had founded Radical Fans United, Greek football's first anti-fascist organisation, and paid for its members' trips to the Mondialli anti–razisti conference in Bologna in 2009. They had even taken on Super 3's leader, Vangelis Diamantopoulos. as a parliamentary candidate.
Yet when it came to Olympiacos, they couldn't crack the nut. The far-right had gotten to many Olympiacos fans long before. Piraeus' historically high poverty rates have been associated with a fierce devotion to the Greek Orthodox Church. As a result, throughout the Yugoslav Wars, Piraeus' population identified with a Serb nationalist cause that presented itself as a defending the principles of the Orthodox Church. The Bosnian-Serb war criminal Radovan Karadžić received a rapturous welcome when he visited Olympiacos' stadium in 1993. Twenty-five years on, Slobodan Milošević pins and badges still adorn the shirts of many ultras.
One of Fyssas's signature songs is "Piraeus on my back", a tribute to the city in which he spent every one of his 34 years. On 17 September 2013, in a little sports bar in a Keratsini side-street, Fyssas turned his back on the Olympiacos-Paris Saint-Germain match for just a second to greet his girlfriend Chryssa. When he turned around, he was confronted by men in black t-shirts holding baseball bats lined with nails and screws. Stepping outside in search of refuge, Fyssas was greeted only by a speeding grey Nissan that crossed lanes before coming to an abrupt halt before him. From it exited a pudgy middle-aged man, who stepped towards Fyssas softly as if to embrace him, before stabbing him twice in the heart.
The anatomy of a murder plunged a nation into political crisis. This was no mere football brawl: it was a targeted execution. Fyssas' murderer was a Golden Dawn member who worked at the party's office in nearby Nikaia. He had been at home watching the Olympiacos match when he received a phone call and rushed to his car. Phone records show that he had spoken several times that night to Giorgos Patelis, leader of the party's local branch. Patelis had phoned Ioannis Lagos, the parliamentary deputy for Piraeus, who in turn contacted Golden Dawn's leader Nikos Michaloliakos.
It remains unclear who decided to eliminate Fyssas. Golden Dawn MPs Ilias Kasidiaris, Ilias Panagiotaros and Nikos Michos were all indicted in criminal proceedings before being freed. But the judge was clear on one thing: someone in Golden Dawn made the decision to murder Fyssas that night. Sixty-nine other Golden Dawn defendants remain on trial. A verdict is expected later this year.
Over 20,000 anti-fascist protesters lined the streets of Keratsini to protest Fyssas's murder. Just as in 2008, they joined the indignant cries and accusatory banners of a nation's football fans. This wasn't the first time since Alexis Grigoropoulos' murder that supporters had taken to the streets in the name of the political right or left.
Almost 36 percent of Athens' population had streamed into the city's Syntagma Square in May 2011 to protest against the harsh terms of the country's recent international bailout. They had been joined by the fans of Panathinaikos, Ergotelis, AEK and Aris. Underneath the golden square's sweet orange trees, the fans had together held banners ordering the government "to ignore the EU and help the poor."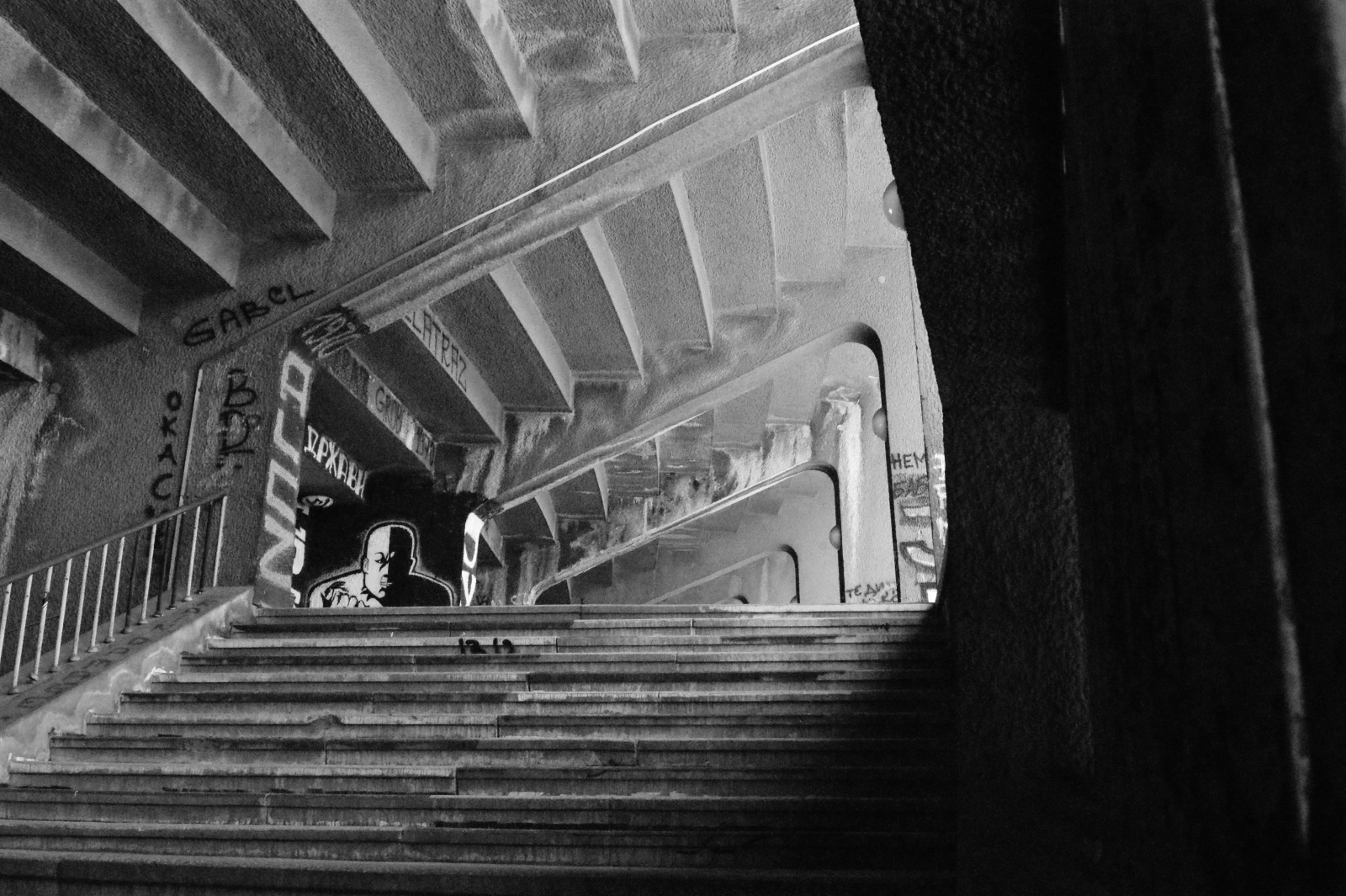 Read  |  The troubling relationship between Serbian politics and football hooliganism
These left-wing fans had previously eschewed violence. But now, as they walked down Keratsini's unpolished streets, they were becoming agitated. They had had enough of Golden Dawn's intimidation. Memories ran thick of how Golden Dawn activists had attacked fans from nowhere during 2011's Snytagma Square protests. Nor was it forgotten how three Golden Dawn members had beaten up left-wing politician Dimitris Stratoulis at a AEK-Atromitos match. There were signs that tempers were boiling over. When Golden Dawn condemned PAOK Thessaloniki player Kaçe for his support for Kosovan independence in August 2013, PAOK fans had ransacked their offices.
Now, football fans descended towards Golden Dawn's Nikaia office with sledgehammers in their hands. They stopped first at the GETO café on Serifou street to throw a brick in the window. The famous haunt of Olympiacos' Gate 7 ultras, it had not been taken kindly to that the right-wing fan group had repeatedly failed to condemn Golden Dawn's murder of Fyssas. From there, they travelled to the offices of Golden Dawn where windows were smashed and neo-Nazis sprayed with red paint to symbolise the blood on their hands.
For the past four years, an average of 3,000 left-wing protestors have descended on Keratsini each September to commemorate Pavlos Fyssas. They throw firebombs, clash with riot police and chant the words of Fyssas' last song, Zoria. Its haunting lyrics, in which Fyssas predicts his own murder, rebound along pavements lined with doleful shrines of candles and flowers. "A day like this is a good one to die, My name is Pavlos from Piraeus, I'm a Greek whatever that means, not a flag or a black-shirted spawn of Achilles."
There is a sense that things have quietened down in Greece in recent years, that the twisting and thrashing of a country's population has slowly come to a stop amidst economic recovery. "The worst is over," Prime Minister Alexis Tsipras recently declared. For many commentators, this conclusion also extends to the violence between a nation's football fans. Incidents between rival supporters have lessened since 2013.
But Greeks more than anyone know how easy it is to return to the excesses of the past. Thirty years after the defeat of the country's authoritarian military junta, the far-right continues to blight Greece's political landscape. The return of centre ground politics that many promised would accompany the country's economy has not materialised. The previously moderate centre-right New Democracy is meandering towards the shadows of the far right. Golden Dawn perseveres.
As parties start once again to play politics over Syrian refugees and nationalist resentments towards Macedonia, fan groups' political passions are once again awakening. This June, fascist PAOK fans rioted for three days in Thessaloniki's city centre following Greece's decision to recognise Macedonia's right to use that name. Furthermore, according to Yiannis Zaimakis, the violence that marred May's domestic cup final in Athens was motivated by political resentment between Syriza-voting AEK fans and Golden Dawn PAOK activists.
As the contemporary Greek philosopher Nikos Dimou notes, the central plague affecting his nation at the moment is the gap between desire and reality. "The hope is to present the crisis as finished, to suggest that the police are no longer right-wing, that the political centre has returned."
If Greek football fans have shown anything, it is that they are the canaries in Greece's political coal mine. When they start to awake from their slumbers, it is indicative of a wider social unease. If Syriza wants to prevent the proliferation of more mournful canopies of scarves and firebombs, it should bear this in mind.
By Alexander Shea @alexjshea