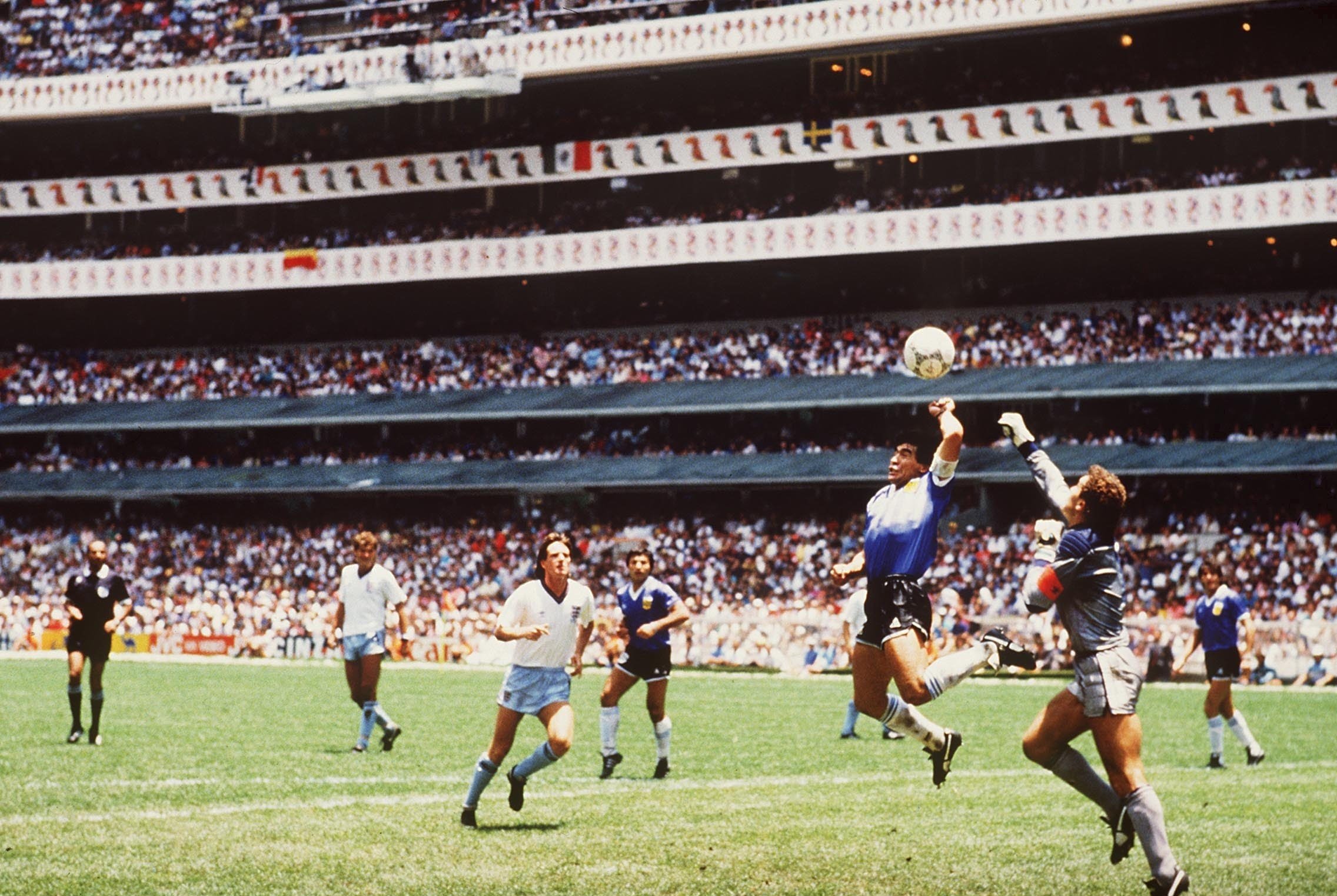 IT IS PERHAPS the most infamous goal of all time. Over 114,000 fans packed inside the Estadio Azteca saw what happened, as did millions of viewers around the globe watching the live television broadcast, but two very important men apparently viewed the incident differently. They are called Ali Bin Nasser, the Tunisian referee, and Bulgarian linesman Bogdan Dotchev, officiating the World Cup quarter-final between England and Argentina at the Mexico 1986 World Cup. Between them, they failed to make the necessary decision, after what was a monumental and game-changing incident.
Argentina were on the attack, with Diego Maradona weaving his way through the middle of the England defence in the 51st minute before slipping the ball towards Jorge Valdano on the edge of the area. However, as Steve Hodge attempted the clearance, the ball looped towards the penalty spot where Maradona had continued his forward run. As Peter Shilton belatedly ran out to punch clear, Maradona also rose to make contact, using his fist to poke the ball beyond the England goalkeeper and into the back of the net. As Maradona wheeled away in celebration anxiously urging his teammates to join him, furious England players surrounded the referee in protest, but to no avail. The referee still allowed the goal to stand.
There had apparently been a moment of pause, uncertainty, and maybe even confusion between the two match officials, yet neither seemed willing to take responsibility for a goal they both evidently doubted. "I was waiting for Dotchev to give me a hint of what exactly happened, but he didn't signal for a handball. And the instructions FIFA gave us before the game were clear – if a colleague was in a better position than mine, I should respect his view," referee Bin Nasser reflected many years later, seemingly with his own conscience clear of any blame.
Dotchev was less than impressed upon reading those comments. "Although I felt immediately there was something irregular, back in that time FIFA didn't allow the assistants to discuss the decisions with the referee. If FIFA had put a referee from Europe in charge of such an important game, the first goal of Maradona would have been disallowed," he responded to the Bulgarian media, likewise, unwilling to accept any share of the blame. The two still remain at odds over who was at fault, or who should have taken responsibility, although, in fairness, much has changed in refereeing since that fateful day back in 1986.
When England faced Argentina in 1986, the referee was Tunisian, whilst the linesmen were from Bulgaria and Costa Rica. It's highly unlikely they spoke the native languages of their colleagues so, unless they all spoke a common second language fluently, such as English, communication between the trio of match officials was always going to be difficult. These days, that problem has been removed by FIFA competitions utilising teams of match officials from the same country or federation. The referee and his two assistant referees (or linesmen as we still think of them) are usually the same nationality. The modern game also features a fourth official on the touchline and, though they might be a different nationality, they usually speak the same primary language as their colleagues, or at least share a common second language.
For roughly the last twenty years in elite competitions such as the World Cup, communication between all match officials has also been aided by the use of microphones and headsets, meaning they can take a few seconds to discuss any contentious events with their colleagues, who might have been better positioned to view an incident with more clarity, aiming towards more informed final decisions. Of course, human error continues to play a part in the decision-making process and mistakes have still been made, but the next steps are aimed at minimising refereeing errors to the bare minimum, for key decisions during matches.
Currently on trial during domestic competitions in countries such as Italy, Germany and England, Video Assistant Referees (VAR) are an innovation aimed at reducing errors in three key areas that are considered to be game-changing, plus one which is administrative. These are by utilising VAR assistance to allow or disallow goals, penalty decisions, red card incidents, and avoiding cases of mistaken identity when referees caution players. In all these instances, the referee can consult the VARs to review footage of an incident and receive advice via their headset, or even view on-screen footage themselves at the touchline, before making a final and more informed decision.
Inevitably, whereas the use of goal-line technology over recent years has been more straightforward, implementation of VAR during trials has not been without teething problems, sometimes adding to the controversy and debate that has always surrounded game-changing refereeing decisions. Just like how the detailed collection and use of detailed statistical data in football has been around for some time now, particularly surrounding betting markets, where everything from cards to goals are considered, so has the impressive array of digital technology that has led to greater coverage of the sport than ever before. We can now see goals from practically every possible angle on TV or via online platforms, watch replays of fouls with stop-motion accuracy and zoom lenses which leave us in little doubt, or enjoy motion captured visual analysis of the most intricate passing moves. Nevertheless, like anything new involving the sport we all love, it may take a little while to bed in properly.
After FIFA executive Phillippe Le Floc'h expressed confidence the technology will be utilised at Russia 2018, content with how well the trials have progressed, VAR may now feature at the World Cup, pending final approval in March. That decision will be taken by the International Football Association Board (IFAB), who manage the Laws of the Game in football. However, their findings are highly positive, following an IFAB report published with a summary of research results since the VAR experiment began in 2016, showing that VAR has been used in 804 competitive matches and has produced decision accuracy of 98.9 percent, with fewer than five checks required per match, and almost 70 percent of matches requiring no incident reviews.
Perhaps the main concern building up to the World Cup is the limited time available for match officials who aren't yet accustomed to VAR, to be fluid in how the system works and how it should be implemented during matches. Given the final IFAB decision will be in March, that leaves only a couple of months for FIFA to organise and provide important training for match officials who haven't yet participated in any of the trials. Nevertheless, if the implementation proves to be successful at Russia 2018, Hand of God events should remain firmly a thing of the past and, hopefully, the flow of games won't be interrupted too much when referees need to seek a second opinion.