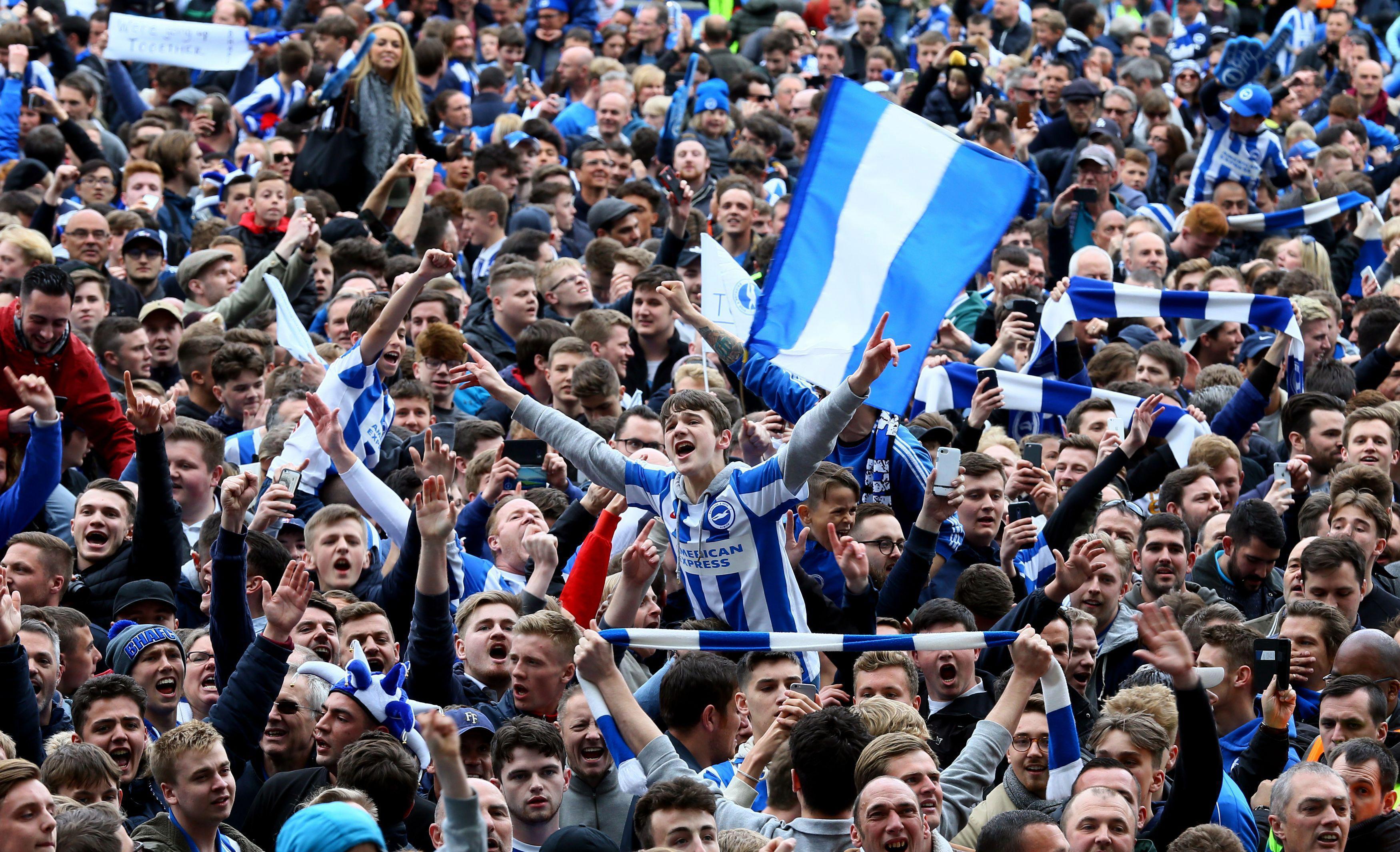 England is a country of 53 million people, but it's also, more importantly, a country of 122 professional football clubs. The depth of the game on these shores is unrivalled across the globe, and while the vast variety on offer forms a huge part of its unique appeal, there is one thing that ties each and every club together. From Crawley to Carlisle and Yeovil to York, they're all dreaming of the big time.
The Premier League is the jewel in English football's crown, a land of luxury and a uniquely thrilling proposition, and they all want to be part of it.
As far away as the terraces of Torquay may feel from The Stretford End, it's actually a more attainable dream than many may believe. Since the Premier League's inaugural 1992/93 season, a total of 47 clubs have competed for that gold-crowned trophy, many of whom have climbed from the lower echelons of the English football to do so, and next season two more will add their names to that list.
Brighton & Hove Albion and Huddersfield Town have competed in the Football League's bottom division as recently as 2001 and 2004 respectively, yet they are currently preparing to take their bow on the biggest stage of all. The tips on sites like KickOff might not favour them, but the fans don't care. The mixture of excitement and apprehension at this point is almost too much to bear; dreams of unlikely success are punctuated by the fear of embarrassment at the hands of the best. As they prepare to step into the unknown, they must wonder what stands in front of them, and what the past can tell them about what's to come.
Since the turn of the century 14 others have competed in a debut Premier League season*, and while the beauty of football is that almost anything can happen, history tells us that there are a few inescapable truths.
 Away trips are going to be tough 
When imagining their sides competing at the top level, trips to the Emirates, Anfield and Old Trafford will have been at the forefront of Brighton and Huddersfield fans' minds. They may provide great days out, but what happens on the pitch is unlikely to be much fun.
On average, Premier League debutants win just three of their 19 away games, and take just 15 points from a possible 57. The highest points return of any first-timer was Wigan Athletic's 27 during the 2005/06 season, and even they suffered defeat nine times on the road on their way to a 10th-place finish.
 A famous win is more likely than you might think 
That's not to say, however, that a famous scalp to be talked about for generations is out of the question. In fact, it's very much on the cards. Of our 14 previous 21st century debutants, only two sides have failed to claim a win against one of that season's eventual top five sides – West Bromwich Albion in 2002/03 and the aforementioned Wigan in 2005/06. Every other side has managed either one or two joyously unexpected victories over one of the league's big names.
Even Cardiff City, who finished their one and only Premier League campaign bottom of the pile with just 28 points, managed to claim a memorable 3-2 home victory over eventual champions Manchester City. Guardiola, Mourinho, Wenger  and co beware, these newbies are more dangerous than they might look.
 Relegation may not be inevitable 
Almost every Premier League season begins with the newly promoted sides amongst the favourites for relegation, with first-timers seen as even more likely candidates for an immediate return to the Championship. History tells us, however, that this is rarely the case. Just five out of our 14 have dropped straight back down, and only two have faced the ignominy of finishing dead last. In fact, newcomers on average finish in 15th position in their first season and remain in the division for around three further campaigns.
Of course, for every success story there is one of feeble disappointment (see Wolverhampton Wanderers in 2003/04), but relegation is anything but a foregone conclusion.
 The title would be a bigger anomaly than Leicester's win 
You've made it this far, Brighton and Huddersfield, but that next step up to ultimate glory may just be one too many. As yet, no side in Premier League history has claimed the title during their first stint in the division (aside from the initial 22 founding members, obviously). Manchester City and, famously, Leicester City have both claimed the title post-Premier League promotion, but these triumphs took place in their third and fourth visits to the division respectively.
For debutants, eighth place appears to be pretty much the glass ceiling. A number of sides have claimed that position during their first stint in the division, with Reading doing so in their first Premier League season, before following that up with an 18th-place finish and relegation.
All in all, there's plenty of reason for next season's newcomers to be optimistic. There will be highs, there will be lows, but for Brighton and Huddersfield fans it promises to be quite the ride.
* Fulham in 2001, Birmingham City and West Bromwich Albion in 2002, Portsmouth and Wolverhampton Wanderers in 2003, Wigan Athletic in 2005, Reading in 2006, Hull City and Stoke City in 2008, Burnley in 2009, Blackpool in 2010, Swansea City in 2011, Cardiff City in 2013 and Bournemouth in 2015