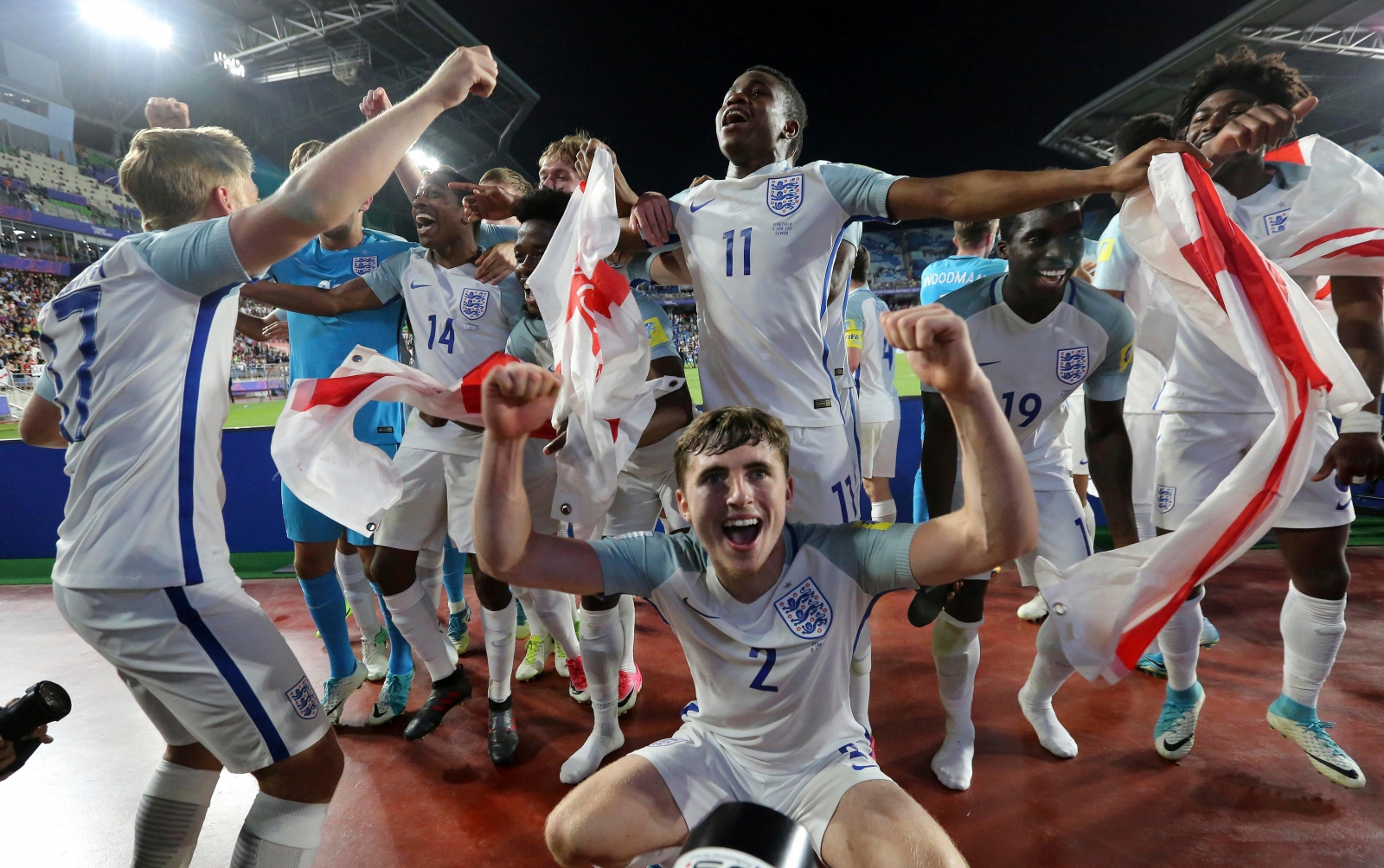 It took 51 years, but finally, England have lifted the World Cup. Yes, at under-20 level, but that is still an incredible achievement with some of the young international talent out there. Who would bet against this talented group of youngsters to win further honours in the future? Thanks to a great team performance and some individual stars, the England camp finally found the recipe for success and now all eyes are on who could be the next big talent in English football.
The competition, held in South Korea, was the 21st edition of the under-20 tournament, and in the past, England's kids have only managed a third-place finish, back in 1993 (a team that included David Unsworth, Nick Barmby and Nicky Butt amongst others). England's youth setup has also been a bit of a mish-mash, with the best young players often promoted straight to the senior squad.
The group stages saw England finish top, with the only hiccup being a 0-0 draw with rank outsiders Guinea. They brushed aside hosts South Korea and enjoyed a 3-0 victory over historic rivals Argentina, putting them at the top of Group A. Goals came from Adam Armstrong, Dominic Solanke, Dominic Calvert-Lewin, Lewis Cook and Kieran Dowell.
The round of 16 was also business as usual for England, with a brace from Everton's next big thing, Ademola Lookman, enough to take them to quarter-finals. Costa Rica pulled one back in the 89th minute but never really came close to providing a challenge against a strong England side.
England's most challenging game came against Mexico in the quarters. In a tight match, Mexico had plenty of chances and could have pulled the game back enough times in the second half thanks to England going down to 10 men, but Solanke's 47th-minute finish eventually booked their place in the semi-finals.
Italy were their next opponents and many thought that if the end of the road could come any time, Italy would be the challengers. It certainly looked like England's World Cup might have been over too, with a second-minute goal from Juventus man Riccardo Orsolini leaving them on the back foot. England left it late to mount a challenge but Solanke saved the day with 66th-minute equaliser that was followed up by a Lookman goal 11 minutes later. Solanke popped up again in the 88th minute to seal England's first youth World Cup final appearance.
The final against Venezuela was again a challenge but England managed to see off the South Americans with a single goal from Dominic Calvert-Lewin. The player of the match, however, was Newcastle goalkeeper Freddy Woodman, who pulled off a great save in the second half and denied the Venezuelans a goal from the penalty spot late in the game. He also took the golden gloves, rocketing him to the top of the hot prospects list.
Players like Solanke, Cook and Woodman looked like class acts and are promising for the future. All three are attached to Premier League clubs but have gained lots of experience on loan, a trend that spreads to nearly every player in the under-20 squad. It seems that game time, even at a smaller club, gives enough experience for players to go on and win a major tournament.
With the next under-20 event in two years, many of the class of 2017 will likely be representing the senior squad. It will be exciting to see if this next generation of England players can recreate their success at the main event, but in the meantime, they can bask in the glory of being the first English World Cup winners for over half a century. Shrewd gamblers would be smart to back the England senior squad to do well at World Cup 2018 and Euro 2020 based on the under-20 performance this year.