That famous moustache. The receding hairline. Sandro Mazzola was unmistakable on the pitch. As he weaved his way through the hoards of Italian defenders during the peak of catenaccio-based football, the Turin-born megastar would build a career that took him to the very heights of what was possible in an Internazionale shirt. To this day, few can boast the achievements of Baffo.
How differently life began, however. Born to one of Italy's most revered players, Valentino Mazzola, in November 1942 – a week after his father signed for Torino – tragedy would strike at the very heart of this institution of an Italian family in 1949. Valentino, a star in arguably the greatest Italian club side to date, was to perish in the Superga air disaster; a plane crash that took the lives of the entire Grande Torino team as they made their way back from Lisbon. Valentino, a handsome, supremely gifted and diminutive number 10 is still considered by some to be the greatest Italian player of all time. Indeed, his 118 goals in 195 appearances for il Granata lends weight to the assertion.
Unlike the player his son would later become, Valentino exuded a calm elegance on the field, gliding past players as an inside forward and dominating games in a way that few Italians had accomplished at the time. He was the pin-up boy of calcio; a man, at 30, with everything to gain and nothing to lose. Until Superga, of course. A legacy of legend was left behind and the seeds were sewn in the mind of a man who would later guide Internazionale to two European Cups and four Scudetti.
For Sandro, the death of his father unsurprisingly hit hard. After his parents divorced in 1946, it was Valentino who raised a young Sandro and taught him the early art of dribbling, striking and passing. Later in life, Sandro told Gazzetta Dello Sport: "The basics are everything for a footballer. My father taught me the basics – for that I will always be in his debt. I built a career on the skills he taught me. I had to become a footballer. There was no option. I had to find peace on the pitch and attempt to bond with my father. We had such little time together."
Perhaps the agony, the anger and the sheer frustration at losing his sole guardian in life were what motivated Sandro to reach the heights he ultimately scaled. Along with his brother – another talented young player – Ferruccio, he would sign for Inter in 1960. The story of how the brothers came to join the Nerazzurri is both heart-warming and tragic:
"One day Benito Lorenzi, the Inter forward who played with my father in the Italy team and was a very close friend of his, came to my house. He asked my mother to let me go to Milan to become the team's mascot. Giuseppe Meazza was also greatly affected by the Superga disaster and went out of his way to help my brother and me.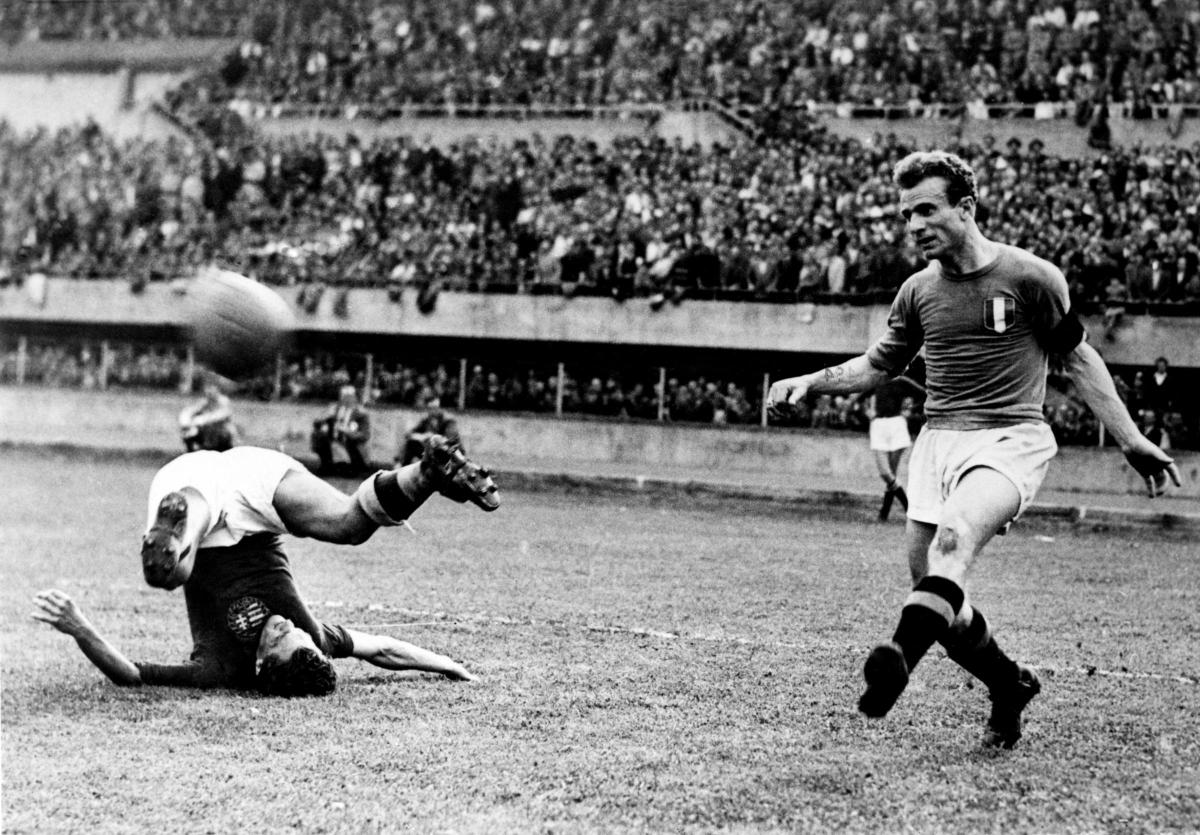 Read  |  Sandro Mazzola: from tragedy to triumph
"The two of us would put on the full Inter kit, walk out with the players and stay by the side of the pitch during the matches. Even as mascots we were on bonuses and we used to get 10,000 lire for a win and 5,000 for a draw. It was a lot of money for our family."
The generosity that Meazza and Inter demonstrated was enough to convince Sandro that his future would lay in Milan; the city where his father was born 41 years earlier. The world had to wait for twelve years before they saw the return of a Mazzola on the football pitch after Superga, as Sandro made his debut for Inter against Juventus in 1961, selected by the notoriously hard-to-please Helenio Herrera. It was a tough baptism of fire as he witnessed a rampant Juve side put nine past his new employers.
Despite his obvious talent, the early years were tough for a forward who relied heavily on touch, vision and passing in the final third. Aside from struggling to match the expectation that the Mazzola named carried, he was part of a Herrera team that often sat back, soaked up pressure and relinquished possession of the ball: "It was very difficult when I was young because everyone expected me to be as talented as my father. But I didn't have the same qualities as him. The fans sometimes made very negative comments about me and that was hard to take, and it got so bad I was even thinking about giving up football at one stage."
After making his Azzurri debut in 1963, aged just 20 for a national team that preferred the selection of senior, experienced players, Mazzola was to push on and mould himself into one of the most effective forwards in the game. In many ways, he was an early Kenny Dalglish; capable of using his body to shield possession and spotting passes before most others on the field. A goal every four games for the club is a testament to the finishing and technical qualities that ensured he successfully emulated his father.
Alongside the likes of former Barcelona midfielder Luis Suárez, Mario Corso, Armando Picchi and the great Giacinto Facchetti, Sandro would form the backbone of a team that would go on to dominate Italian football and the European game in the 1960s. Mazzola's personal influence was colourfully vivid as he helped the club lift the 1964 European Cup as the tournament's joint top-scorer. A year later the Nerazzurri would defend their crown against Benfica, Mazzola again proving to be the catalyst in attack.
For those who remembered Valentino, it was a different kind of Mazzola on show. Sandro, despite his touch and vision, was a bustling forward, perfect at defending from the front as Herrera demanded. He buzzed around in the inside right position, finding space and turning possession over. Valentino was different; he glided, looked the part and would often come off the pitch with not a mud stain in sight. Sandro, unlike the man he barely knew but revered with all his instincts, was a warrior. He had to work to become a legend and fulfil his undoubted quality.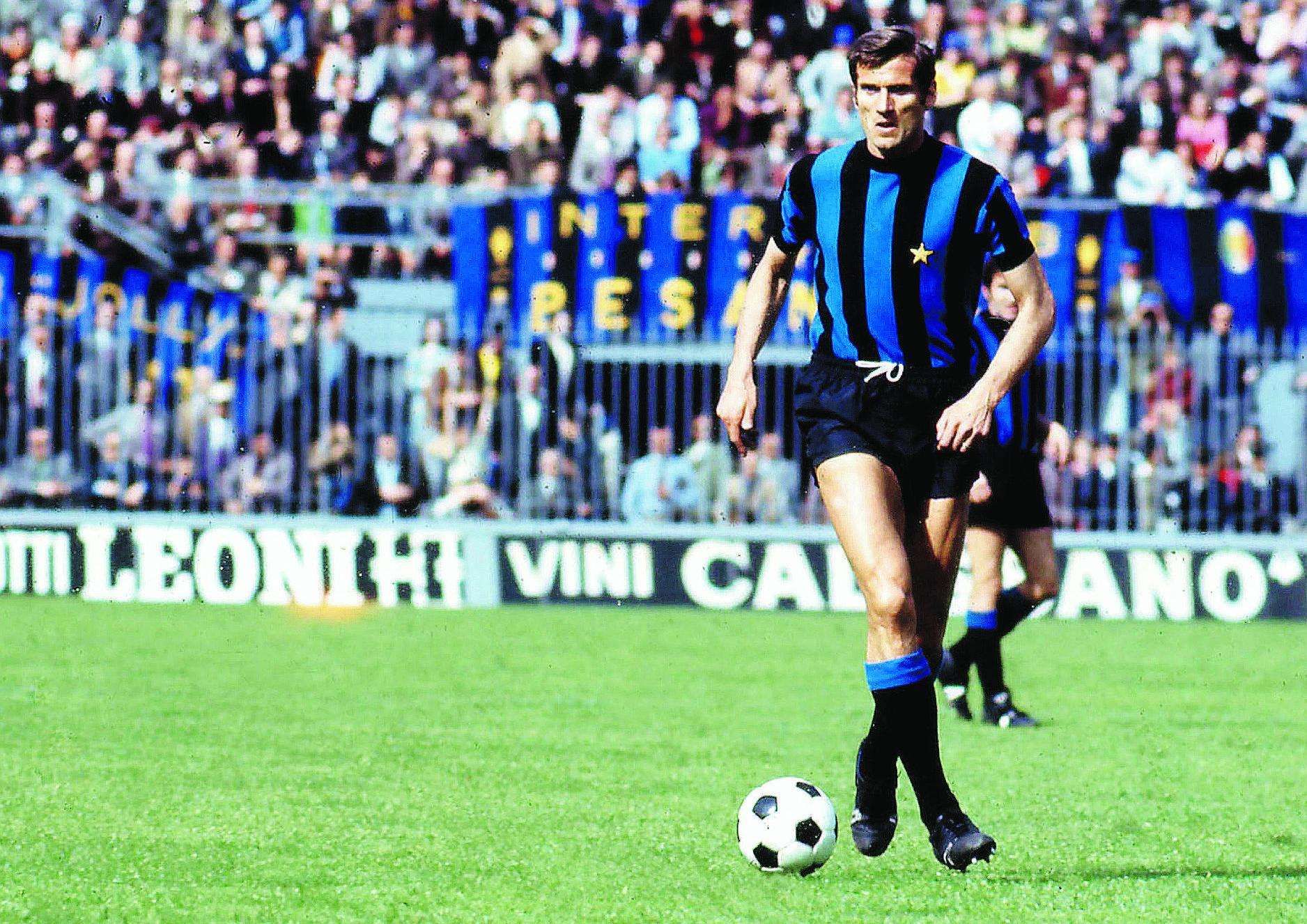 Read  |  Giacinto Facchetti: the Inter legend decades ahead of his time
In addition to his notable success for Inter, Mazzola was also part of a great era for wider Italian football. While the Azzurri didn't pick up the trophies that their talent deserved, he helped guide Italy to the 1968 European Championship, overcoming a famously talented Yugoslavia side in the final. His performances over the course of the week-long event elevated him to the UEFA Team of the Tournament. It was just reward for a player who didn't score during the finals but was a constant threat throughout, turning defence into attack with the same intelligence that his father demonstrated two decades earlier.
A World Cup runner-up in 1970 – when the world held its breath to watch both Mazzola and Gianni Rivera in the same side (something that was ultimately a pipe dream as Rivera was used sparingly) – Sandro finished with 22 goals in 70 national team appearances and three World Cup appearances. It remains a shame that the likes of Mazzola, Facchetti and Rivera never lifted the Jules Rimet.
As Sandro scaled the tallest peaks in the world football, brother Ferruccio would move from club to club, enjoying his best years at Lazio between 1968 and 1971. A nomadic existence was finally brought to an end aged just 29. Ferruccio passed away in May 2013, illness taking the life of Sandro's younger brother.
As Sandro wound down his career in 1977, six years after finishing runner-up to Johan Cruyff in the 1971 Ballon d'Or, Italy would look ahead to brighter times with a new generation; a generation of players who would lead the Azzurri to the 1982 World Cup in Spain.
Still involved in the game today as a commentator and pundit for Rai TV, Mazzola continues to display the determination, charm and knowledge that enabled him to succeed his father and cement his place, alongside Valentino, as the greatest father and son to have ever kicked a ball. In an era before detailed stats, Mazzola shone brightest as a player who rarely lost the ball, was astute at dribbling and could pick the hardest of passes to release his team-mates.
As a now 74-year-old Mazzola looks back on his early years, as he fought to overcome the death of his superstar father, he reflects with fondness at a career that brought him closer to the man who he barely knew but idolised for his entire life. In 2014, he told Rai TV: "I was closer [to Valentino] through football. Maybe I could have studied and become something else, but I know I wouldn't feel at peace. I feel close to my father. Football brought us together again."
By Omar Saleem  @omar_saleem